PSA nitrogen generator for industrial use
Product Detail
Product Tags
Business Type: Manufacturer & Factory
Main Products: compressed air purification equipment, PSA nitrogen generator, PSA oxygen generator , VPSA oxygen generator, liquid nitrogen generator.
Area:more than 8000 square meters
Number of Employees: 63workers,6 engineers
Year of Establishment: 2011-3-16
Management System Certification: CE,ISO90001,ISO14001,ISO45001,ISO13485
Location: Floor 1,Building 1, No.58, Industrial Function Zone,Chunjian Township, Fuyang District, Hangzhou City, Zhejiang Province
Hangzhou boxiang is the company which specialize in developing ,designing,making of PSA nitrogen generator, oxygen generator and purification equipment, clean equipment.they are wildly used at oil, energy, electronic, chemical, metallurgy, generate electricity, manufacture medicine, food, hospital and so on.
As for the different user we can offer individuation ,specialization nitrogen generator to satisfy user's different request depond to different standards.
PSA Nitrogen Generator Skid full sets supplier with CE Cerfiticate
PSA Nitrogen generator is used as the principle of pressure swing adsorption, The nitrogen is obtained from compressed air directly by using high quality carbon molecular sieve as adsorbent.
A full installation requires air compressor, refrigerated air dryer, filters, air tank, nitrogen generator and gas buffer tank.
We supply full installations but each component, and other optional supply like boosters, high pressure compressors or filling stations can also be bought separately.
1. The press swing adsorption theory is very stable and reliable.
2. Purity and flow rate can be adjusted in a certain range.
3. Resonable inner structure, keep the balance airflow, alleviate the air high speed impact
4. Unique molecular sieve protective measure, extend the working life of the carbon molecular sieve
5. Easy installation
6. Process automation and easy operation.
According to the press swing adsorption theory,the high quality carbon molecular sieve as the adsorbent, under the certain pressure, carbon molecular sieve has different oxygen/nitrogen adsorption capacity,the oxygen is adsorbed largely by the carbon molecular sieve, and the oxygen and nitrogen is separated.
Since the adsorption capacity of the carbon molecular sieve will be changed according to different pressure, once lowering the pressure, the oxygen will be desorbed from the carbon molecular sieve. Thus, the carbon molecular sieve is regenerated and can be recyled.
We use two adsorption towers, one adsorb the oxygen to generate nitrogen, one desorb the oxygen to regenerate the carbon molecular sieve, cycle and alternation,on the basis of PLC automatic process system to control the pneumatic valve open and colse, thus to get the high quliaty nitrogen continuously.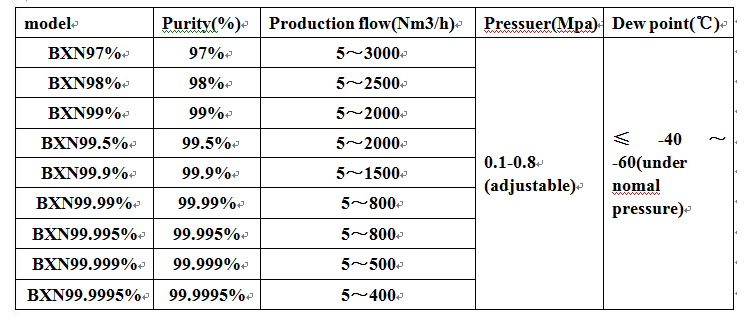 Key Specifications/Special Features
Main technical parameter:
Model no.              : BXN(5-1000)
Gas production capacity    :5 -1000Nm3/h
Nitrogen purity   : 95-99.999%
Nitrogen output pressure: 0.1-0.8MPA(adjustable)
Dew point: -40℃~-73℃(under normal pressure)
Power:0.2KW
Voltage and Frequency: Meet the requirements of different countries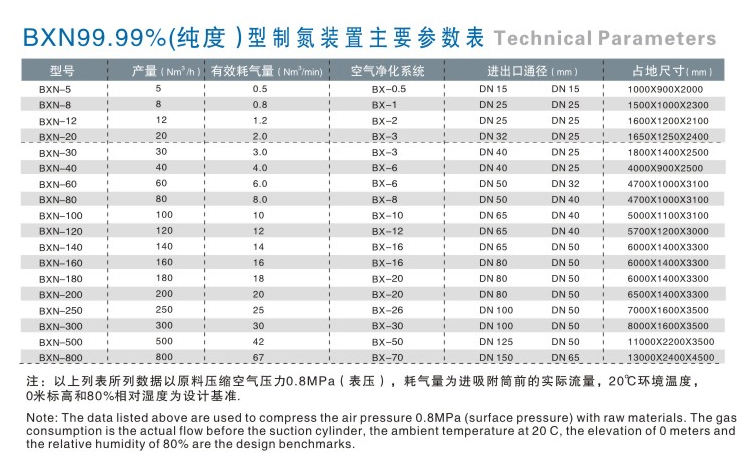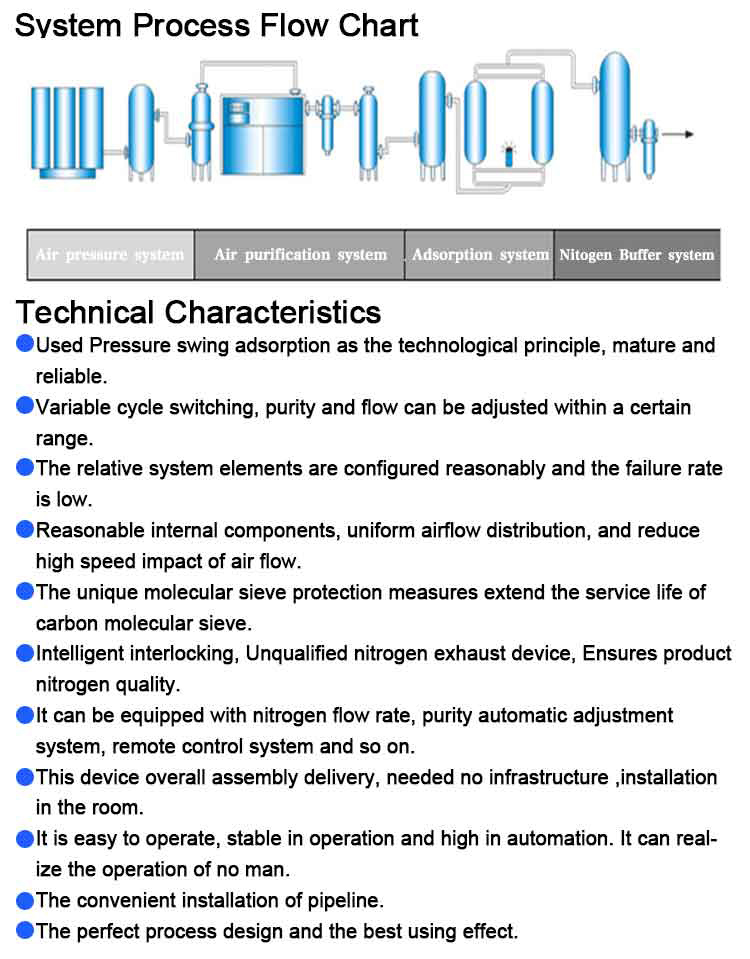 The company's products with "Boxiang" as the registered trademark, widely used in metallurgical coal, power electronics, petrochemical, biological medicine, tire rubber, textile chemical fiber, grain depot, food preservation and other industries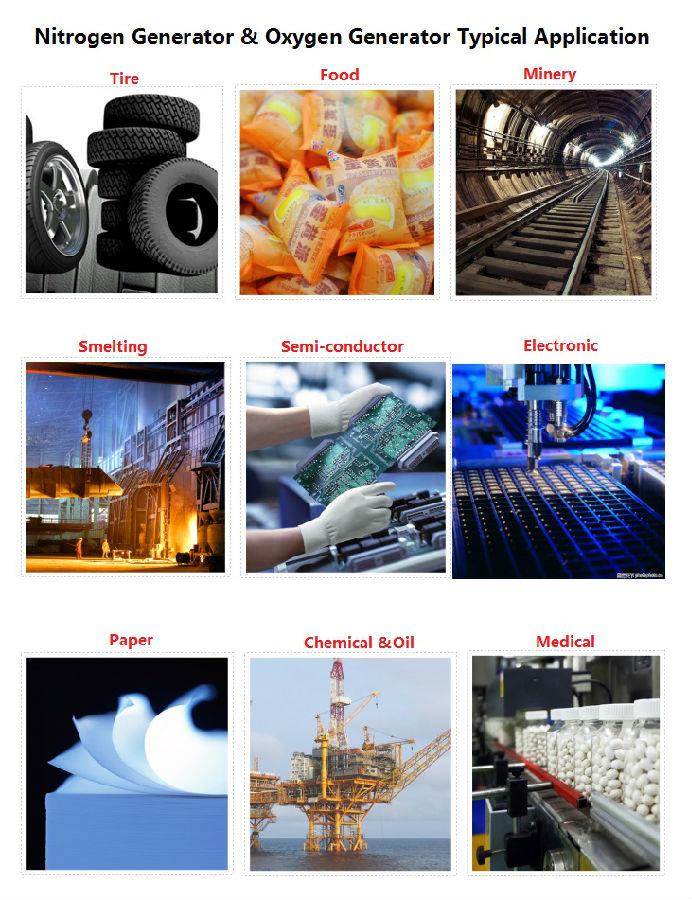 Africa
South America, North America
FOB:Ningbo or ShangHai
Lead Time:30-45 days
Packing: Export packing in wooden cases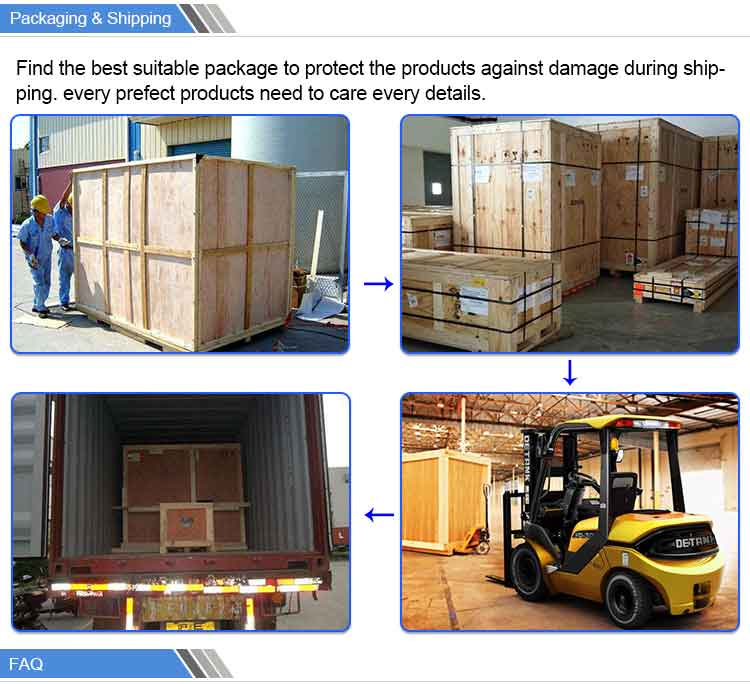 Payment Method: Advance TT, T/T,Western Union, PayPal, L/C.
Delivery Details: within 30-50days after confirming the order
Primary Competitive Advantage
1.We have over 11 years of professional experience as a manufacturer of psa oxygen generator.
2.The technical team has 6 engineers. The engineer has many years of overseas installation and commissioning experience.
We have established cooperative relations with customers in Hungary, Kenya, Brazil, Philippines, Cambodia, Thailand, UK, Venezuela, Russia and many other countries.
3.Select domestic and international famous brand components to ensure product quality.
4.one year warranty period. 
5.Engineers go to your country for installation and training  or video, drawing, instruction manual training.
6.24 hours online consultation, guidance.
7.After 1 year, we will provide accessories at the cost price, provide technical support for lifelong maintenance, track and interview regularly,and register customers' usage.
8.Provide product upgrade and service according to customer usage.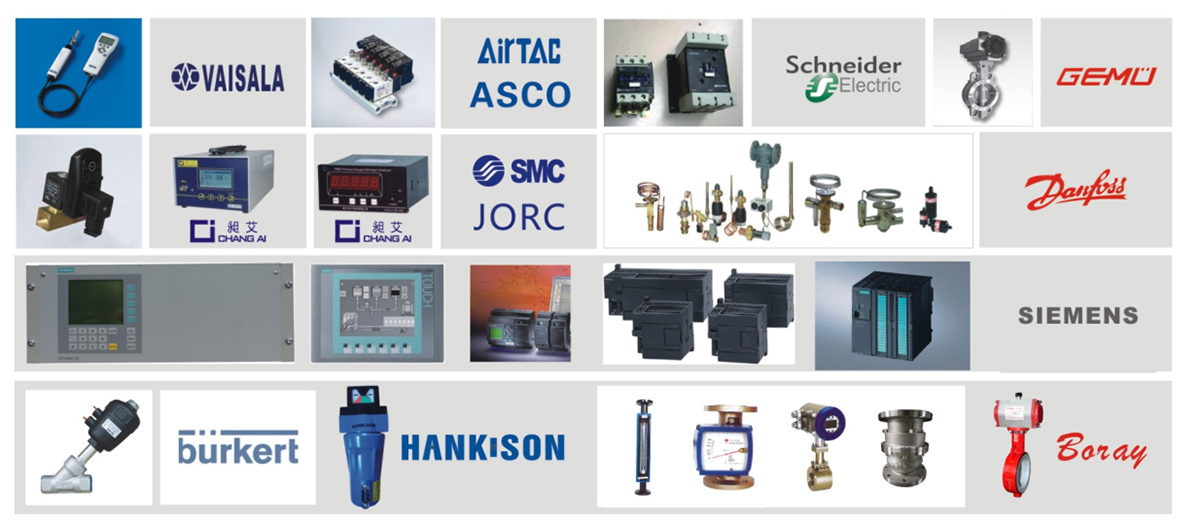 ---
---